On this page:
Healthcare Paralysis: why US hospitals are about to be crippled by the exploding pandemic
No doctors: Why it will be virtually impossible to find a doctor or a hospital bed in the US
Medical Crisis Survival: 3 steps to take right now to protect your life in the medical crisis of the century
Fellow patriot,
You've heard it all:
"It's just the flu"
"Only 1% will die"
"Don't worry about it, only old people with underlying condition die"
Doesn't it drive you nuts?
My name is George - and besides being a "prepared patriot" for more than a decade... I'm also one of those "old guys" with underlying conditions.
I mean... I'm not THAT old. But I'm no spring chicken. My health, maybe like yours, is far from perfect, but I manage. I used to do a lot of dumb things when I was young. We all did. But it doesn't mean we deserve to die. No one does.
I won't go gently into that good night!
Not if I have something to say about it.
And I won't stand anyone that says that I need to lay down and die. I think it's beyond stupid-it's downright criminal to minimize the deadly threat to our country's seniors. But the world is filled with these idiots these days.
There is one thing that the dumb dumbs did get right:
Yes, the coronavirus does have flu-like symptoms. Yes, older folks like me are at risk. And yes, it's estimated that 1% of those infected will die (although some experts argue the number is as high as 3.4%).
What are these "geniuses" forgetting to mention? Oh, just the fact that if you're over 60, your odds of dying are 3.6%. It gets much worse for those over 70-at 8% case fatality rate... and insane for people over 80 - a whopping 14.8% CFR!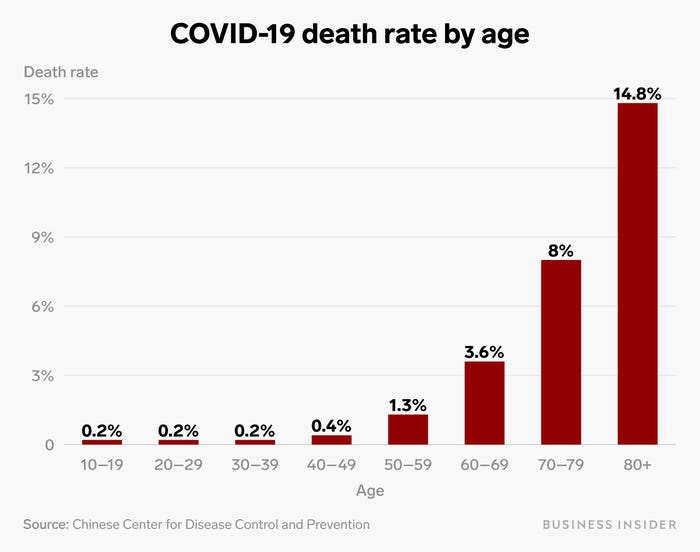 But there's something even worse about the coronavirus epidemic. Sure, 1 in 100 does feel like Russian Roulette, but these are still good odds. But what happens when people stop getting medical attention...
... because hospitals have collapsed under the crippling load?
How will you take care of your own health when there is no doctor around... and when hospitals are overflowing with pneumonia cases?
I know that I'm treating this as THE most important event in my whole life. My grandpa fought in WW1 and helped with the war effort for WW2. I believe this is our WW3 and we need to prepare for it like our very lives depend on it-even now in the 12thhour.
This is why I've created this page. On it I will explain:
Why this is not a drill... and in fact we're in the middle of one of the most severe health crises since the Spanish Flu
why the American healthcare system simply can't handle the load
and why, because of this, it will be really hard to find a doctor or a nurse to take care of you, should you needed
But luckily there is a medical solution for people like us - a simple way to become more "medically self reliant", at least until hospitals can catch a breath.
If you're over 50, I urge you to stop whatever you're doing and read this now. Your very life, and the lives of your family members depend on it.
But first, you'll probably want to know...
... who I am and why you should listen to what I have to say:
Like I said, my name is George and I am from Survivopedia.com-one of the leading survival websites on the Internet. Odds are, you don't about us. Many people don't. In good times, people hate us for "being wrong" and for somehow "spreading fear". In bad times like these, we are hated for being right. You can't win with these guys.
I've heard it all-that I'm a conspiracy theorist, a tinfoil hat, a crazy prepper - you name it. To say that this name calling didn't hurt would be a lie. At times, I was questioning my mission. What am I doing here? For what? Who am I trying to help? Do people really want to hear our warnings, or am I wasting my time?
But over time, I learned to stop paying attention to the morons. And I realized that we were not alone. When we published Backyard Liberty and showed people how to prepare for a food crisis, more than 140.000 Americans heeded our calls. Even more were interested in our EMP preparedness course.
Our mission is to make every American household more self reliant. It's a tall order. But I our message is more important now than it ever was. That is-that you need to learn how to become medically self reliant-and do it fast!
Because...
By the end of the year, up to 228 million Americans
might get infected with COVID-19
I know it sounds like a lot. It's not-in fact, it happened before, and not just once. In 2009, 59 million Americans got the H1N1 virus (aka the swine flu). Up to 45 million Americans get simple flu every year. And back in 1918, when the US population was a bit over 100 million people, close of 1 in 3 American men, women and children got the virus.
Why am I telling you all this? Because it's important to realize that saying that "the coronavirus is like the flu" is like saying that Hurricane Katrina was "just a storm". Understatement of the century. Because the coronavirus is twice as viral as the flu.
A single person infected with the novel coronavirus will, in turn, infect 2 to 3 other people on average. Some experts say it could be even more. By comparison, the number for flu is just 1.3. This means that it takes very little for the new virus to spread-it's been estimated that infections double every 4 to 6 days.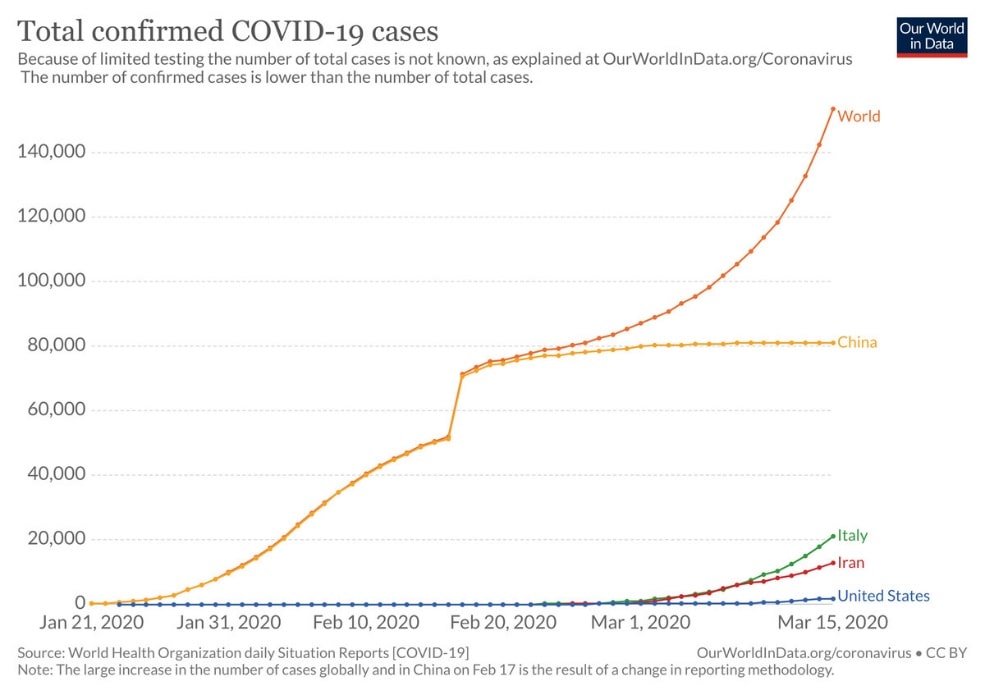 Even if you hated math in school (I did), this one is easy to understand. 100 cases will turn into 200 in just 6 days. 400 cases in 12 days. 800 in 18 days. How many in 60 days? A whopping 100.000.
It's so serious, that leading virologists are estimating 40 to 70% of the world population could get infected within a year. It's something Angela Merkel, chancellor of Germany, agreed with.
OK then, so many of us are going to get infected. So what? We still have 99% odds of survival, right?
Sorry to break it to you, but this is WRONG WRONG WRONG. And whoever is spewing this deserves to be hung for treason-and for putting our country's seniors in mortal danger.
They say the devil is in the details. This holds true for the novel coronavirus as well. Because before it kills... the coronavirus will put up to 20% of those infected in hospital.
And here's the kicker:
When this hits full force,
there won't be any hospital to put us in!
If you take a closer look at the numbers, you'll see something frightening:
Of those infected, about 13.8% report severe illness-like shortness of breath, or they require supplemental oxygen. Another 4.7% are critical-which means they're forced to battle respiratory failure, multi-organ failure or septic shock.
All this might sound scary-but usually, it would be something the healthcare system would be able to handle well. The load is usually manageable, unless there's a really bad flu season. But with the novel coronavirus, an already bad flu season is turning into...
... The Mother of All Pandemics!
Because there aren't enough hospital beds in the world for this.
The US healthcare system is already on the brink because of an unusually bad flu season. Why? You probably didn't know that, but the US has only 2 hospital beds per 1000 people. We're #31 in the world, far behind even communist China's 8 beds per thousand (4 times more!)
And those beds are already overflowing with patients who have anything BUT Covid-19.
Second of all, the US healthcare system has a serious personnel problem. Simply put, there aren't nearly enough healthcare workers. A recent study shows that we would need an extra 2.3 million new healthcare workers... just to be able to properly take care of the aging population in a "business as usual" scenario. Not even accounting for a pandemic.
Plus, the coronavirus epidemic is bringing about some serious (and unexpected) problems. For instance, it's estimated that close to 38% of nurses have a child at home. With schools closed across the US, this will likely keep valuable personnel away from where they will be needed most.
But wait... it gets worse. This novel virus tends to infect people who are in close proximity with the infected. Which tends to be doctors and medical personnel. Which means you'll need to...
Prepare for a scenario
where there won't be any doctors available
In Italy, it took one infected to "disable" 16 healthcare workers for 2 weeks. They had to be quarantined. In South Korea the epidemic was so bad, that nurses quit their jobs in droves, for fear of getting infected themselves. Iran recently started calling dead medical staff "martyrs" ... hoping that the promise of heaven will stop doctors from quitting their jobs.
We're not Iran. It's likely that things aren't going to be that bad. But don't count on the healthcare system to be here to help you. At best, it's going to be under severe strain. At worst, it could be virtually shut down for a few months.
The bottom line is...
... this time, the health system is not going to be here for us!
Some people would argue that it was never here for any of us-with greedy corporate CEOs and Big Pharma trying to squeeze the living soul out of you and every last dime out of your wallet. But this time, you need a real plan to weather it out on your own.
Look, I'm not one to distrust doctors. I wouldn't be alive without them. Most of them are good people who truly care about patients. But I think it would be wise to prepare for a short to medium-term future where doctors, or hospitals, might not be available.
So what are some practical steps you can do right now?
Your best bet, until someone comes up with a vaccine or a winning antiviral, is to try to delay getting infected as much as possible. In this scenario, spring doesn't kill it. The warm weather won't kill it either. And the virus doesn't mutate into something harmless.
Now is the time for hospital-like hygiene. And I don't mean "wash your hands after you go to the toilet" kind of hygiene. I mean "doctor-about-to-go-into-surgery" level of hygiene, with a healthy amount of paranoia every time you touch something outside of your own home.
I won't repeat the advice you've probably gotten 100 times already. Wash your hands. Avoid crowds as much as possible. Assume everyone is infected - including family members. Buy your groceries online instead of going to "virus factory" supermarkets. Basically...
it's OK to over-react now, and laugh it off later when the threat is gone.
I will stress one little detail though that many people are missing. Pay attention to how often you touch your face. And stop doing it. I know, hard. This health official was licking her fingers to turn pages... just as she was explaining why it's important to never touch your face.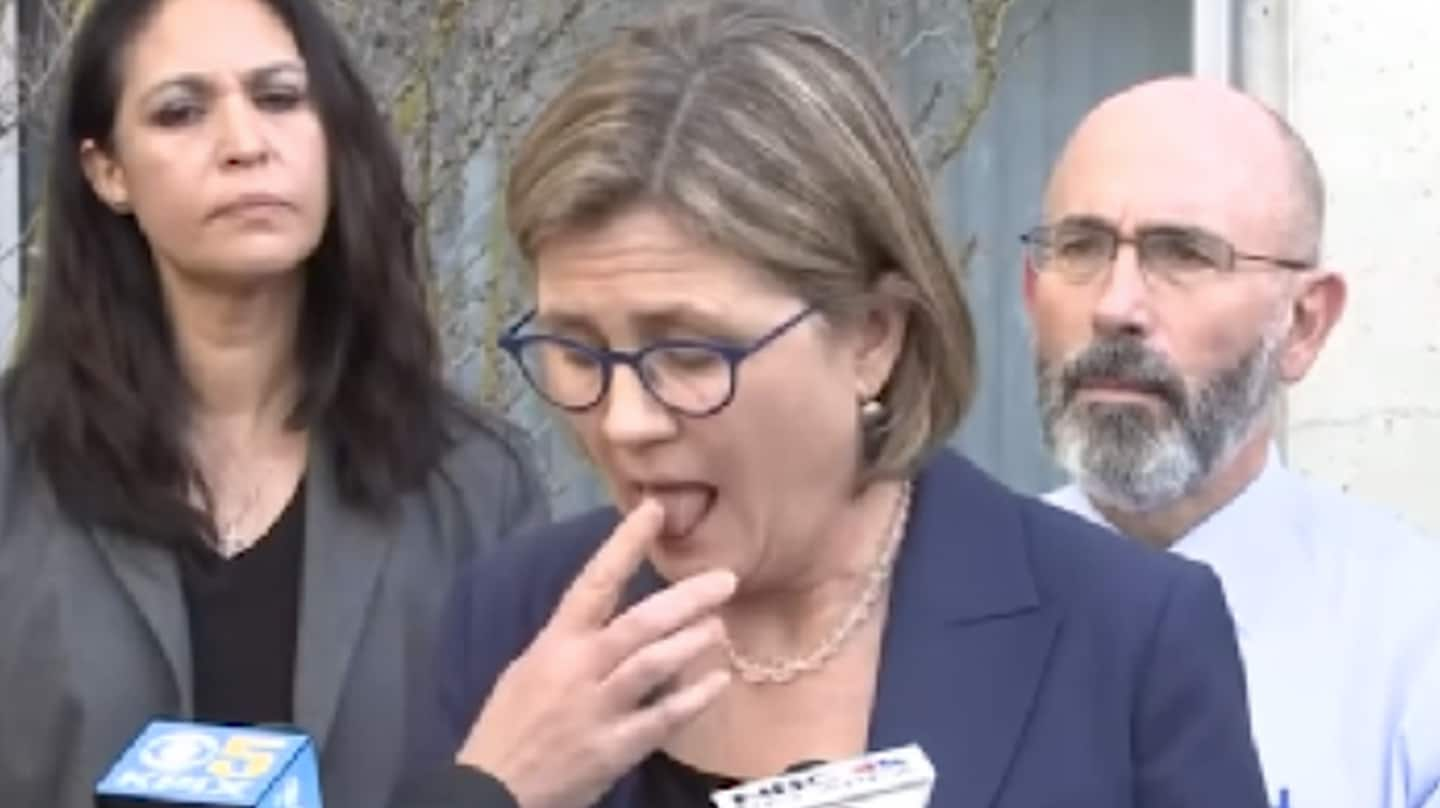 Maybe your face is getting itchy just reading this, and you want to do it. Don't.
I know how it is. I have a deviated septum in my nose, and because of it I have the bad habit of picking my nose (I know, it's gross). I've been trying to ditch this habit for decades. It seems like it's taking an existential threat to finally put a stop to it (I'm lying-I'm still picking my nose, but I make sure I do it after I wash my hands).
Do you have a beard? You probably play with your beard. I do. Wearing glasses? See how often you touch your face. Enough said.
I do have one tip for you that seems to work: tie a red ribbon around your index finger. It will make it a lot easier to notice-and hopefully stop - your bad habit.
Step #2: prepare for shortages of essential drugs
The next thing you want to ensure is that your medicine cabinet is fully stocked. And I don't mean for coronavirus, because there's very little you can do about it-other than trying to boost your immunity with vitamin C and D and hope for the best.
But for everything else, you will need to prepare for severe disruptions of the supply chain. This is crucial-and here's why. Very few people know, but we're constantly exposed to supply chain disruptions. For instance, did you know that 5 years ago, 85% of the world production of IV bags happened in Puerto Rico. It took just ONE category 5 hurricane to bring everything to a halt-and to cause a huge shortage of IV bags worldwide.
It's worse with the coronavirus. Because studies show that there are 153 critical drugs that people with chronic disease need right now-or else they with die. Many of them are made in China or in India. And we're already experiencing shortages of them without a pandemic. Now that the coronavirus is hitting full-force, you need to brace yourself for possible worldwide disruptions.
It's a case of "criminal globalism". You'd laugh if you heard the defense department outsourced all its ammo production to China-but this is what we're doing with our drugs.
So what medicine to stockpile? I have a special list from a top survival doctor, and I'll share it with you here on this page in a moment.
Step #3 is probably the most important. And that is...
... you have to build some basic medical skills that could save your life in a "no doctor" scenario
Knowledge is power, and this kind of knowledge gives you the power to save lives-yours, or a family member's.
You must be thinking.... you, learning medical skills? I know this probably sounds crazy. What am I saying here, that you'll perform your own surgery? That you'll treat some serious health problems, like a stroke or heart attack?
No. If any of that happens AND there is no doctor, I hope you scored good points with God-because you're going to need all of HIS good will. But...
just because you won't
perform your own brain surgery, doesn't mean
there aren't things you can do
Quite a lot, actually!
How do I know this? Years ago, when the Ebola pandemic happened, I was afraid that it was going to be "the one". Luckily, that wasn't the case. But while I was reading every available source, and doing my research, talking to doctors, etc... it occurred to me. Not all doctors are alike in a "no healthcare" situation.
As I was doing my Ebola research, it struck me that the best doctor for a medical crisis will probably not be some "silk underwear", Porsche-driving doctor from a billion dollar hospital. My best bet was someone from the trenches. A doctor who is forced to perform miracles with no expensive, state of the art technology. And while facing severe drug shortages. In short, ...
... I needed a 3rd World Doctor
If I wanted to learn from the best... I knew that the best crisis doctor would be someone who fights crisis on a day to day basis. And after a few months of research, I found my guy-in one of the poorest countries of the European Union-Romania.
His name is Dr. Radu Scurtu-and he's a rather unusual surgeon. While he's working within the state-of-the-art French healthcare system... he earned his stripes in the terrible healthcare system that Romania had in the early 2000's.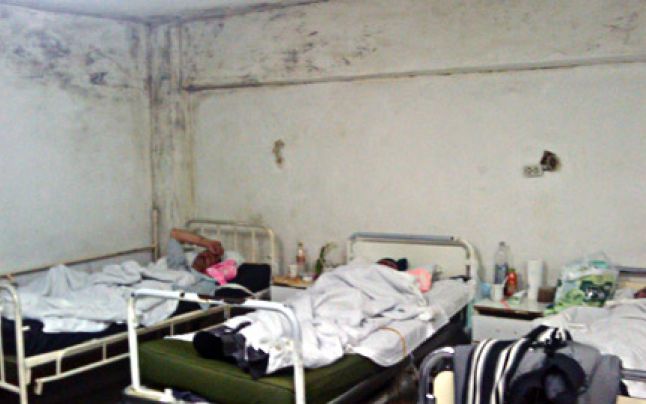 The doctor had seen it all. No electricity. No proper disinfectants. Having to seat 2 patients in the same hospital bed, because of shortages. Rats and cockroaches. Things that would make your stomach churn-and that you'd never see in the US under normal circumstances.
Dr. Scurtu managed to get out of that system-first, working for a few years in Germany, before moving to France. But he took with him a wealth of information on how to deal with a collapsed system. What's more, moving from "stone-age" to "state of the art" meant he could get the best of both worlds. Romania had taught him self reliance and ingenuity. Western Europe provided the expensive toys.
It reminded me of a lesson I learned from my grandpa-a self made multi-millionaire, but who had weathered two wars and the Great Depression. While Grandpa was happy to enjoy a life of luxury, he always liked to remind us that it can and it will all go away. He had lost it all multiple times-and had made it all back in multiples, with the help of God and of his own good attitude. Grandpa was fond of saying:
"There is no education like adversity"
When you think about it, it makes sense. Should the healthcare system collapse, most of our fancy pants doctors will be screwed. They have no idea what it's like to operate with a flashlight. Or what to do with a patient when basic medicine is out of stock, and the fancy equipment is hogged by thousands upon thousands of sick people.
They will be overwhelmed. And WE are going to be the ones who will suffer the most.
When I met Dr. Scurtu, one of my first questions was "what can I do to fend for myself in a medical crisis?". I was expecting the same run of the mill response I had gotten tens of times from other doctors-that you shouldn't try to play doctor, that I should go to the hospital, yada yada yada. I knew that, I'm not an idiot. But what if there IS no doctor, and no hospital?
Dr. Scurtu was more than happy to take my question. And he gave me an earful. Turns out, short of surgeries and complex medical procedures, there is quite a lot of stuff you can do! Here's some of it. But first, a disclaimer:
Don't try any of it without talking to your doctor first!
I'm giving this for information purposes only. If you have a doctor you can access, call him. If you can go to a clinic, do it. That's the safest course of action, and it would be irresponsible of me to suggest otherwise.
Below you'll discover what a doctor does when they can't go to a hospital. Use your own discretion.
Here's what I learned from Dr. Scurtu: that if you want a good chance of being to treat something properly, you first want to know you diagnosed it right. He taught me the simple TeCaMoLo principle. These are the core questions you need to ask, to clarify the circumstances in which the injury happened:
TeCaMoLo:
TEmporal-when did the injury occur?
CAuse-why did it happen?
MOdal-how did it occur?
LOcation-where did it happen?
Ask these 4 questions and you'll have a proper baseline for healing the patient.
Beyond that, the Dr. showed me ...
... how to recognize the signs of medical distress
Is the patient pale? Does he or she have a too weak or too rapid pulse? Are they confused? Are there any obvious signs of injury?
The doctor then showed me how to perform a body check (more about this later). And hundreds of little tidbits that could save your life. For instance, do you know why it's a good idea to have an old-school glass syringe in your house? It's because you can sterilize and safely reuse glass... unlike the disposable syringes. In fact, it's probably a good idea to buy some medical pliers and pincers, to have just in case.
I asked Dr. Scurtu what medicine to stockpile - in the event that you won't be able to find them in a crisis. This is particularly important now-with global supply chains falling like dominos. He gave me more than a handful.
Let's start with the obvious.
What should you have on hand, in case of pneumonia?
Try to have some Cipro around the house. For kids, Bactrim or Suprax suspension will help, or Avelox.
For asthma and breathing problems, see if you can get your hands on prednisone taper, Albuterol, or Primatene Mist.
For shortness of breath or chest pain, stock up on nitroglycerin 0.4 mg tablets, as well as anticoagulants.
For non-infectious Diarrhea, Imodium-AD will help. In case of a urinary tract infection, make sure you have Bactrim or Macrobid.
Other things you MUST have in your stockpile include: aspirin as a blood thinner; atherosclerosis medication, like Mevacor or Zocor; Coumadin as a blood thinner for stroke; Aleve for arthritis; Zantac for heart burn; Lisinopril or Tenormin for high blood pressure.
And in general, you should make sure you can get your hands on...
Fiber laxative
Aspirin as a blood thinner
Atherosclerosis medication. Mevacor (lovastatin); Zocor (simvastatin)
Blood thinners for stroke Coumadin (warfarin)
Medications for arthritis Aleve (naproxen)
Heart burn medications. Zantac (ranitidine).
High blood pressure medication. (Lisinopril); Tenormin (atenolol).
He told me exactly what medicine to stockpile for: cold and flu, allergies or pain. For breathing problems, gastrointestinal issues, or skin conditions. What antibiotics to get, what birth control to take; and if you have kids or grandkids, 6 drugs you absolutely need to have in your cabinet. Too many things to mention here-but I'll show you how you can get all of the exact same information.
And as I was talking to the doctor, I realized I had stumbled on a treasure trove. I felt like a kid in a candy store. Or better: like a starving survivor in a zombie apocalypse, who just discovered a hidden stockpile.
So I knew I had to persuade Dr. Scurtu
to share his wisdom with our community
Extracting practical wisdom from survival experts was, after all, our specialty.
But the good Dr. wasn't interested. He liked his privacy. He didn't like fame of any kind. And for sure he didn't want any of the negative attention that tends to come with being any kind of survival expert.
It wasn't about the money. The French healthcare system pays doctors handsomely. But I was determined to win this one-because I knew this wasn't about our egos. There was much more at stake-the lives of thousands of Americans who would be left helpless in a medical crisis.
After a lot of cajoling and maybe a little bit of emotional blackmail, I succeeded. And boy oh boy did we deliver.
We interviewed the doctor for two weeks straight. What's more...
... I was too paranoid to let the good doctor write it all by himself
Truth is, as much as I loved his expertise, I was afraid we will end up with a course written for other doctors. Too often, experts suffer from the "curse of knowledge". They know the stuff so well, that they forget what it was like to not know. So they tend to give really complicated explanations that no one really understands.
But that was fine. I knew NOTHING about how to be your own doctor in a crisis. So I asked all the dumb questions (so you won't have to). When I didn't understand something, I asked the doc to rephrase it in plain English. And when we put it all together, it turned out to be the most practical course on medical preparedness you'll ever find. We called it Survival MD-What to Do When There's No Doctor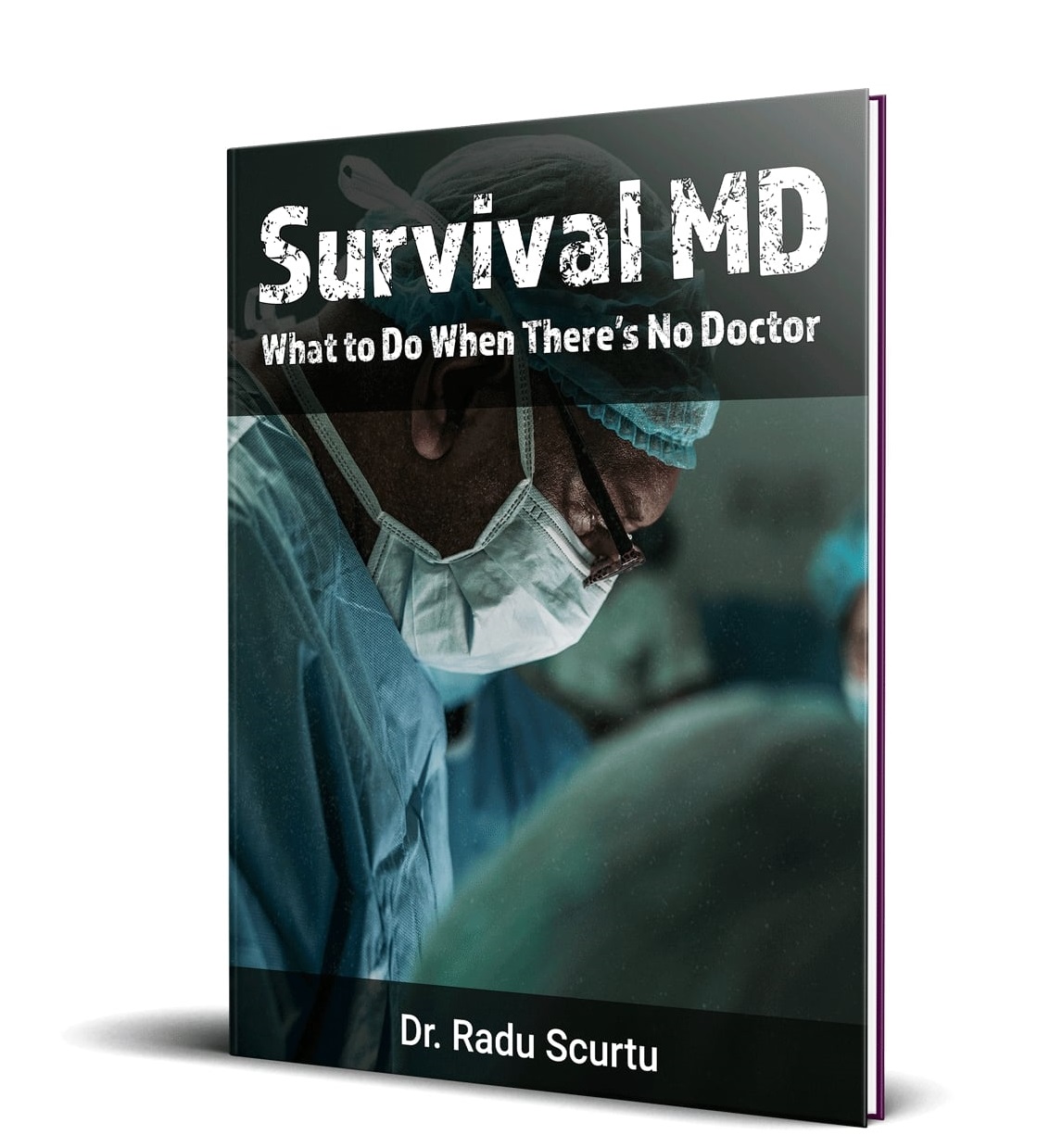 "This book is a must-read for disaster preparedness. It is clearly written, easy to understand, and extremely informative. I highly recommend Survival MD!" - Zabian Crosby
"I think that everyone in the U.S. should have this manual. Could save your life!" - Mike Kirsch
Before I go on and explain what's inside, I want to set the record straight.
Here's what Survival MD is NOT:
First of all - This is NOT a medical tome. If you're planning on becoming a doctor or a registered nurse, this is NOT for you. This is a practical, down to Earth, plain-English course on how a layman can "replace the doctor"-when there is no doctor available and you're in a life and death situation.
Second of all - It's NOT a book on how to treat yourself when you can easily go to your doctor. That would be plain stupid-and it would be irresponsible for me to suggest otherwise. If you're looking for a way to stop going to the doctor when there's nothing wrong with the healthcare system... it's my duty to tell you that you might put your life in great danger.
Third (and frankly I don't care if this hurts our sales)-this is one book I hope you will never need. Just like I hope you never have to shoot your gun in self defense-but it's wise to protect yourself.
"Si vis pacem, para bellum"